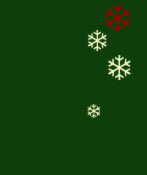 Make your own snowflake online! Try writing a snowy story or poem about your snowflake.

Visit a North Pole village! This page has games, recipes, SantaTracker, and more. You can even email Santa!

Here is another side of Santa's Village. Go to Elf School to earn a diploma for playing games, read Santa's diary at the Polar Post, or explore on your own.